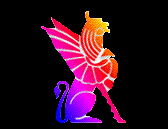 G R I F F I N
C O M M U N I C A T I O N S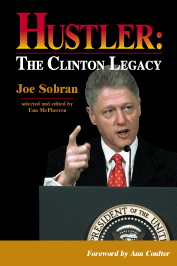 HUSTLER: THE CLINTON LEGACY
by Joe Sobran
selected and edited by Tom McPherren
Living in interesting times is a curse, but there's no sense stewing over them when reading about them can work like a charm. And it does when you have a good-humored wizard like Joe Sobran stirring the brew.

Good-humored but not pleased — oh, no. Bill Clinton and his keepers may look like a historical joke, but as Sobran shows in Hustler, it's no joke at all that they came to power in the American republic and were returned to power. What they did with that power is no joke. How their apologists protected them is no joke. And while the ineptitude of their opposition may make you laugh, it's no joke, either.

In columns and articles written from 1992 through the late stages of the Clinton plague, Sobran uses the sharp needle of his deadly wit to explore everything from crime and perversion in the palace to media hypocrisy to the degeneration of constitutional government to Balkan adventurism to Larry Flynt's adulation, and much more. He shows us how Clinton must see America and what Clinton's thriving in office says about America. One conviction, at least, was never in doubt: this book "rises to the level" of a masterpiece of political and cultural commentary.

Pat Buchanan has called Joe Sobran "perhaps the finest columnist of our generation." And Sheldon Richman, editor of Ideas on Liberty, says that "no one so explicitly or deftly connects what is happening in the world today to the loss of our freedom and the systematic usurpations of government — absolutely no one. Sobran is a cross between Mencken, Nock, and Cato's letters." For proof of that, you need look no further. You're holding it in your hands.
From the jacket flap
---
Publishing information
Hustler: The Clinton Legacy, by Joe Sobran, selected and edited by Tom McPherren; 255 pages + xx + index; copyright © 2000, Griffin Comunications, Vienna, Virginia

ISBN (hb): 0-9678845-0-0

ISBN (pb): 0-9678845-0-0

LCC Number: 00–134950
---
Advance Praise for HUSTLER: THE CLINTON LEGACY

So it turns out there finally is a silver lining to Bill Clinton. The country may not care about honor, the "rule of law" is a joke, and the only removable offense is being a Republican — but at least we got Joe's book out of it. On Clinton, Joe Sobran is the master.

— Ann Coulter
author of the New York Times bestseller
High Crimes and Misdemeanors:
The Case against Bill Clinton

---

Lest we forget what a disaster this man was in the White House, Joe Sobran's writings during the Clinton presidency remind us of the anti-Constitutional, pro-statist policies that President Clinton foisted on America. Sobran's unique style and insightful analysis make for a superb book.

— Congressman Ron Paul (R–Tex.)

---

Joe Sobran has a talent, unequaled among contemporary journalists, for seeing through a mass of confusing and seemingly disparate details to the moral center that unites them. But his writing, though morally serious, is never moralistic: never solemn, pretentious, or dull. He transforms the most squalid subjects with his sparkling wit and unerring sense of the absurd. And in the Clinton presidency heís found a subject worthy of his talent. Hustler: The Clinton Legacy is a chillingly hilarious book.

— Ronald K. Tacelli, S.J.
Associate Professor of Philosophy, Boston College

---

Clinton as subject and Sobran as author make for an irresistible combination.

— Tom Bethell
author of The Noblest Triumph:
Property and Prosperity through the Ages

---

Joseph Sobran's penetrating analysis of the Clinton years provides his readers with much food for thought. His command of the English language equips him with the gift of placing the maddening events that have unfolded in our culture of death in their proper context. His book is a time capsule of how many within the United States have sold their souls to political leaders who have made war against Christ and His Holy Church."

— Thomas A. Droleskey, Ph.D.
professor, author, lecturer, publisher of Christ or Chaos.

---

About Joe Sobran's newsletter, Rabbi Mayer Schiller says:

With style, wit and a passion for truth SOBRAN'S sallies forth once a month to do battle for our civilization, the Old Republic, and ultimately the glory of Almighty God. It is must reading.

---

And Mario Cuomo says: "Sobran is a radical right-wing extremist."

---
Copyright © 2000 Griffin Communications