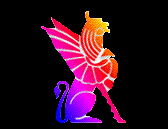 G R I F F I N
C O M M U N I C A T I O N S
What's New

Veteran cartoonist Rex May, who has drawn for The Saturday Evening Post, National Review, The New Yorker, and many other publications, is now drawing a strip exclusively for Griffin Internet Syndicate. Seven fresh cartoons will be available each week. Newspaper and magazine editors can get a trial subscription to the cartoon strip. Several graphic formats are available. Griffin E-Package subscribers will get the cartoons sent to them by e-mail.

---

Jeane Kirkpatrick, Howard Phillips, and Jardo Muekalia were among those speaking at a dinner on Wednesday, March 13, honoring the late Jonas Savimbi, freedom fighter of Angola, killed in battle last month.

Images of him and UNITA are part of an unofficial dinner program which can be viewed here and here (design by Peter B. Gemma, Jr.).

Fran Griffin, president of Griffin Communications, managed UNITA's Kwacha News newsletter and produced many other publications for them before their office was shut down by the Democrats.

On one of Dr. Savimbi's last trips to the United States, Ms. Griffin helped with details for the visit and accompanied him and his key officials in meetings on Capitol Hill. He was a very principled man who died fighting for the freedom of his people.

Read Paul Weyrich's tribute, UNITA Leader Gave Life for Faith. Another tribute — by Howard Phillips — is also on-line.

You can also read about Dr. Savimbi in Warren Carroll's 70 Years of the Communist Revolution.

---

On February 13, Griffin Communications coordinated appearances by author Hilmar von Campe in the Washington, D.C., area. The public was invited to attend a talk and informal discussion with Mr. Campe at the National Press Club, where the topic was his newly released book, Moral Meltdown: The Core of Globalism (1st Books Library, 2001). Download a flier for more information.

---

Griffin Communications organized a news conference for February 14, 2002, at which relatives of passengers aboard flight KAL 007 presented evidence that the Soviet claim that all aboard died when the plane crashed into the ocean near Sakhalin Island on August 31, 1983, is false. After the briefing they delivered petitions to the White House and the Russian Embassy addressed to President Bush and President Vladimir Putin. The petitions, signed by hundreds, asked them to find out what happened to the 269 men, women and children aboard the plane.

Their news release can be read on-line.

Members of The International Committee for the Rescue of KAL 007 Survivors were also in attendance.
---
Copyright © 2002 Griffin Communications